All pictures taken or used with permission
Opened to the public on August 31st, 1966 and located at Dixie Highway and 154th Street in Harvey, the mall is located on the lot previously used by the Weseloh and Hendrich farms, then converted as a former golf course. It was one of the very first covered malls in Illinois. Before its closure, the building was renamed McKinley Middle and served as school. Students attended their courses there 'til Rosa L. Parks Elementary opens up. In 1979, the mall was officially closed in reason of shootings, serious crime rate and economic failure of Chicago south surburbia. This legendary shopping center was the movie location of the first-ever mall bashing car chase of all the history. The Blues Brothers began filming in the summer of 1979 and wrapped in the fall. Abandonned since 25 years, it is still standing up! The whole neighborhood is in bad shape and almost everyone (
Burger King
and
Jack In The Box
, per example) went out of business around there. The Town of Harvey is trying to bring the area back to life. A
police station
has been built on one of the former mall parking lot, but it continues to witness violence:
two rapes and one murder occured in the mall in July 1993
. However, in September 2004, YMCA has annonced its plans to build senior housing on a former JC Penney parking lot at 166 - 153rd Street. There's also rumors of some other projected developments. More recently, demolition crew have torn down the old Montgomery Wards store. Demolition activities have been suspended by the State of Illinois in reason of environnemental issues.
July 2009 - Site of 'The Blues Brothers' movie catches on fire:
(ChicagoBreakingNews.com)
,
(WBBM 780 AM)
,
(WLS - ABC 7)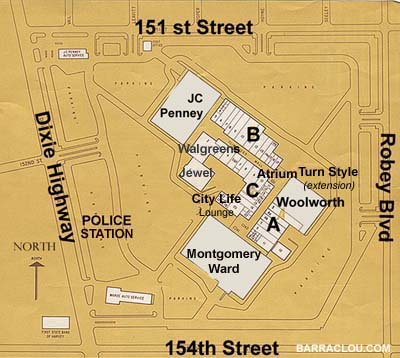 "Many of the stores at Dixie like JCPenney were located in Downtown Harvey before they moved to the mall. My mother used to work at JCPenney and she remembers being assured that JCPenney would not close. However, a wall was constructed in the front of the store's mall entrance and the handwriting on the wall became clear. In November 1978, that department store decided to close. JCPenney moved out in January 1979. The last retail tenant, Jewel Food Store, moved out in June 1979. Thus Dixie Square officially closed in 1979" - Kevin Martin, long term resident of Harvey, Social Studies teacher and history buff.
Wanted:
I would like to retreive any Dixie Square Mall's heyday and early decay pictures, advertissements, historical infos, etc...
Please, e-mail me at

.
Credit will be given to the author (if known).
Thanks to Mike Bergerhuff, Tim Hunter, Chuck Janda, Kevin Martin, Bill McInerney, Paul McVay and Scott A. Weseloh for their collaboration.